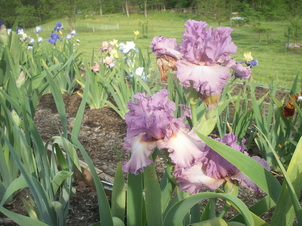 Welcome to Iris Hills Farm!
The website is updated for 2015! We grow over 250 varieties of iris including over 80 beautiful new varieties for sale this year ! All prices are updated for 2015. I will also be adding some educational information about irises to the website during this spring. It can be found on the new "Articles" page. If you live nearby, please call and schedule an appointment to see the irises in full bloom, or come by one of my open house Saturdays: May 9th, 16th, 23rd and Monday, Memorial Day, May 25th. If you live elsewhere, you can go to my "Contact-Order Form" page, where you can download the order form and mail me your order.
Iris Hills Farm is located in Middletown, Virginia. There is more information about the iris gardens at the bottom of the page below the slideshow.
---
The irises are in bloom mid April- late May. If you would like to come visit the gardens in person , please call
540-868-2123.
The iris gardens are open by appointment Monday-Saturday. I am growing over 250 varieties of iris, including over 40 medians( irises from 8-28 inches tall) and many cold hardy reblooming irises! Often in late October the gardens seem almost like spring with more than 20 irises in glorious bloom! Please order early to ensure that the varieties you want will be in stock. Enjoy viewing the photos of the irises and reblooming irises that I have for sale. I have been hybridizing irises for a couple of years, and got to see my first seedlings bloom last year! A couple look like they will get names. You can see photos of them on the Articles page. I am so thankful that God has created irises with such diverse hybridizing potential, in so many colors, types and sizes. I am also thankful that He has put me in touch with so many wonderful people through my love of irises.
If you would like to order iris plants, go to the Order Form page where you can download my order form and print it out, then mail the completed form and your check to me at 465 Chapel Road, Middletown, VA 22645. Irises are reserved on a first come - first served basis as paid orders are received.
Most of my irises are $5-12 dollars. I have some newer varieties for sale that run at $15-40 dollars and a couple older irises for $3-4 dollars.
I am set up to ship irises within the continental United States.
Below is a musical event that I am helping to put on this spring:
May 29, 2015 - Songs for Southall Benefit Concert

Over 25 musicians are gathering in Winchester, Virginia to give a free concert in support of a Christian missions trip to minister through bible classes to South Asian children living in Southall London. There will be an opportunity at the concert to donate to the costs of the missions trip through a love offering. Seating is limited so reservations are necessary - send an e-mail request for free tickets to SongsforSouthall@outlook.com
Below are links to websites for other things being grown at Iris Hills Farm: edible flowers and Katahdin sheep!