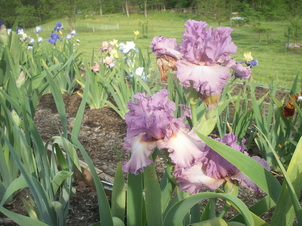 Welcome to Iris Hills Farm!
We are finished taking orders for the season. Please stay and take a look at the beautiful pictures of the irises on the 'Tall Bearded' and 'Median' pages, learn about iris care under the 'Articles page', or see what is happening at Iris Hills Farm on the 'Blog' page.
The website will be updated for 2016 on January 1st. There will be a number of new varieties for sale and more information about the varieties. We will start take orders for 2016 any time after January 1st. The earlier in the year you place your order, the better of a chance you have of all the varieties that you want being available. If you live locally, we would love to have you come visit the gardens in person while the irises are in bloom during the month of May. Open house dates for next May will be posted next spring.

---
The irises are in bloom mid April- late May. If you would like to come visit the gardens in person , please call 540-868-2123. The iris gardens are open by appointment Monday-Saturday. I am growing over 250 varieties of iris, including over 40 medians( irises from 8-28 inches tall) and many cold hardy reblooming irises! Often in late October the gardens seem almost like spring with more than 20 irises in glorious bloom! Please order early to ensure that the varieties you want will be in stock. Enjoy viewing the photos of the irises and reblooming irises that I have for sale. I have been hybridizing irises for a couple of years, and got to see my first seedlings bloom last year! A couple look like they will get names. You can see photos of them on the Articles page. I am so thankful that God has created irises with such diverse hybridizing potential, in so many colors, types and sizes. I am also thankful that He has put me in touch with so many wonderful people through my love of irises.

If you would like to order iris plants, go to the Order Form page where you can download my order form and print it out, then mail the completed form and your check to me at 465 Chapel Road, Middletown, VA 22645. Irises are reserved on a first come - first served basis as paid orders are received.

Most of my irises are $5-12 dollars. I have some newer varieties for sale that run at $15-40 dollars and a couple older irises for $3-4 dollars.
I am set up to ship irises within the continental United States.



Below are links to websites for other things being grown at Iris Hills Farm: edible flowers and Katahdin sheep!